Starting on the next paragraph is an almost but not identical version of my latest email newsletter. There are new photos and some additional reading so its worth looking through. I have not yet fallen into a routine of blogging and email newsletters. A major reason for this is that I have been juried into or invited to participate in no less than eight major Plein Air competitions and paint outs. That mean eight events (with a ninth looming) of 5-12 day runs of painting and framing and showing and selling and repping and prepping and planning and ordering frames, paints, brushes, canvas, gesso, cards and more in advance and easel repairs and clothing and food and you might get the sense that its a logistics challenge. IT IS! It would be a breeze by comparison to just go paint. A future blog entry (a more proper one) shall focus on the Plein Air competition planner...
Before you go on to read the rest let me invite you to attend three events:
#1 : This Sunday June 3rd, 2012, I am exhibiting a variety of works at the Oyster Bay NY "BAY DAY " celebration. On the Audrey Ave extension you will find a fellow artist and a great friend of mine, the incredibly talented Genevieve Jezick watching my display of artwork and tending to sales so I can honor my role as a crew chief on the classic sailboat "'Caper" in the Oyster Bay Spring Classic regatta and tend to sails.
#2: Wayne Air 2012- The exhibition of artwork created during the Wayne Plein Air event is still on view at the Wayne Arts Center, PA. The exhibit is nothing short of breathtaking. Its the first event I've been a part of where you can see all the work created and seeing 310 works by 34 artists created in 4.5 days is something to behold. the caliber of work is great and not to be missed. Its a day trip from NYC or a nice place to spend a couple of days.
#3 -Cranford NJ's "Paint the town" another great event and there are several days to attend the show and Saturday June 9th iis the quick draw. If you've not been to one-this is your chance.
Hello ya'll! (That's lingering from my trip down south..) I write that with the first strong exhale I've had in a while and on the next breath I'll be packing for Plein Air competition number three. For those of you that signed on a while ago, I apologize about the delay with email news-lettering here.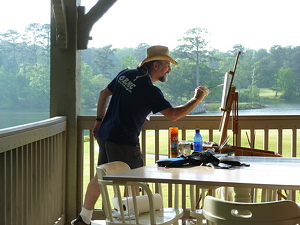 I was off to Callaway Georgia in mid April for a week long Plein Air competition at Callaway Gardens in Pine Mt, GA. I'd hoped to find that right balance of a smart phone that was still capable of making an audible phone call and a decent speaker for when I paint in studio and yet at the 11th hour, the phone did not work as well for use number one, as my old phone so off to compete in southern Georgia I went. With an unexplained cut out of electric in my car I rented from some very nice people at the local Hertz and had a great drive south.
I checked in and found out I was sharing a cabin with John Caggiano (A Massachusetts artist that has never lost his Brooklyn roots) and then we were all given a tour of the Gardens culminating with a cocktail reception at the historic house where Bo Callaway shared tales of His father and FDR, (yes that FDR) and more. Day one of the competition brought heavy rain but I'd spotted some overhangs the day before so I had a great time with my first few pieces. I was able to take video of my paintings in progress. Unfortunately I had technical difficulties. I have a used mac for a laptop. I borrowed my friends HP laptop to more easily go online and edit photos and video since my mac does not accept any photos due to a program glitch from apple. For some reason, I was unable to get online with HP laptop.
So evening went like this: upload video to HP. edit video. Download video to external hard-drive. Upload video to mac. Upload video from mac to facebook. i was then unable to see video on facebook because apple as some of you know, does not support flash.
After two days of this and long days of painting I had to skip the updates to concentrate on task #1 -painting.
Day two we were to be shuttled to surrounding areas for opportunities to paint private gardens and other venues. The last van to leave had key trouble so John and I shared a car to our destination where we met a wonderful woman who had a wonderful property and diverse taste in art. Here is the first one. The second "East garden" is in the plein air events collection on the website.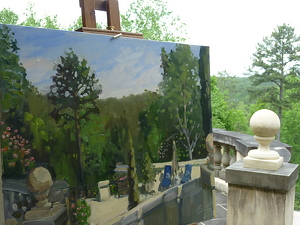 Two paintings that day and a bonus : the evenings gathering was at that location so John and I were able to paint just a little bit longer.
Wednesday was a rainy hazy monkey though I was able to paint under a glass enclosed atrium for a good part of the day.
It was Roger Dale Brown's birthday and I had the pleasure of being on the surprise party planning crew. John C. and I hosted at our Cabin and I cooked for about 16 artists and significant others that evening. Thursday I headed out of Dodge, so to speak to find greater inspiration on one of the grayest days ever. Painted at West Point Lake. Then on a hunch I raced back to Callaway in anticipation of catching a break in the cloud cover. It paid off with a cool 12 x 16 of a stormy sky. As I wrapped that one up I think i heard the painting say it needed a twin. So I painted another into the evening darkness.
Thursday night was a long framing session with the S & M plein Air group or S.A.M.P.A.G. (the S & M stands for Scotch and Matzoh-long funny story but that will be another newsletter).
Friday was the big drop off day and a good time to greet the other artists and get a sense of the work before that evening's reception.
I am pleased to say I sold a piece (East garden) that evening as well as sharing a good time with a great many fine people.
Here is Roger Dale Brown who was not only an award winner but along with Beverly they are very cool people and he ran the workshop following the event
Saturday I was going to attend the lecture but got a deep passion for painting as the sun came out. I headed out to warm up and also scout a location for the quick-draw. My location turned out to be a good one and in the short time we had to paint I felt I'd done one of my best that week. Quite a few of the top artists there complimented me on the art with several saying "you got this one in the bag!" referring to their feeling that it was the best of the morning.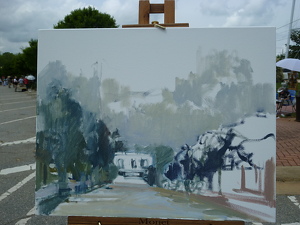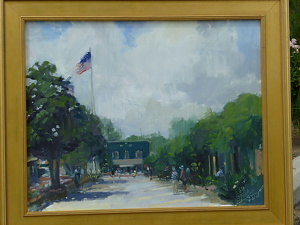 That meant a lot to me especially coming from artists I admire so much. I did not get an award but the painting not only sold for the highest amount of the quick-draw sales but there were at least five people vying for it!. The new owner loves it and that also means lot to me.
The Callaway family hosted a BBQ for the artists at a secret location and it was the second time that week we were treated to food and drink where FDR had socialized with our hosts. Good folks, good bbq...good times .
An informal gathering the next morning at the cabin topped off the week on Sunday before we picked up any unsold works and I headed out for a brief 21 hour drive home to NY.
A 21 hour drive by oneself can lead to interesting thinking. thoughts like" I think it would be interesting to paint in a tan suit! Like the impressionists did! yeah!.... " When I returned to NY I was given a tan suit by someone that heard me talking. It had a couple light stains which took the fear off of ruining it. One dry cleaning sharpened it up and I had the suit I needed to paint in. For those of you that have already "liked" Kirk Larsen Art- on facebook... you know what it looks like. the rest of you will have to wait until
"The tale of Wayne Air 2012 or The suit that rocked Philly" The suit is ten paintings in and still presentable.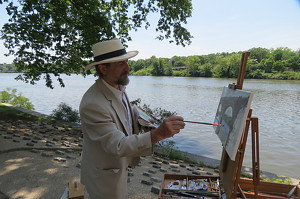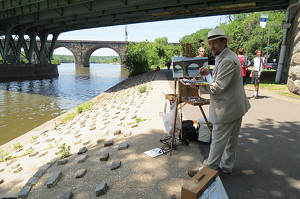 I am pleased to have caught up a bit with this newsletter although there is still the fantastic tale of the car that died before the trip and the great car karma experience. Then there is the incredible tale of Wayne plein Air and a productive week thanks to a great venue and and an impeccable host/artists family. That story will have to wait as the week before Wayne, I shopped again and did not find a phone that had features but also good call sound. In Wayne I had virtually no cell reception, no landline and no wireless. That just meant no working on the computer until late and I would not have traded my host family for anything. That tale will be told soon. now I must prep for this weekends' BAY DAY exhibit Sunday 12-5 in oyster bay. See events page on the website and or facebook too. Then Tuesday i will be in Cranford NJ for "paint the Town" which has its own "app" so i think i gotta get a new phone now...Thanks for reading and subscribe to the blog please. I am only repeating info this time because I'm not up to speed on media while planning all the logistics for the events. Ciao for now, Sincerely-Kirk Larsen