This is an important point in my artistic life and career. These brief paragraphs represent a pivotal moment where I, the artiste, took the time to share a few highlights of an amazing Plein Air season that is yet to end, with the greater public.
I am working on a major article for publication in one of the larger Plein air publications on the topic of an almost insane indulgence in painting competitions this year. I am planning an email newsletter with updates and a great blog series full of insights, observations and emotional perseverance, connections with other artists and oh yes some great paintings.
So what does this very brief blog post represent that is so critical? It represents me logging on and publishing something TODAY. I am a great fan of the insightful and informative FASO newsletters. I have learned and grown so much as an art-business person as a result of the tips and discussions shared. Therein is the point, they were-SHARED.
I have had great news at almost every turn and have profited from every event I competed and or painted in this year.So much "great news" that I have indeed expired that title for my postings on my facebook page (Kirk Larsen Art). I have won 7 awards in the last few months including the Grand prize at Easels In Frederick 2012, the Collector's Choice Award at Easels in Frederick 2012,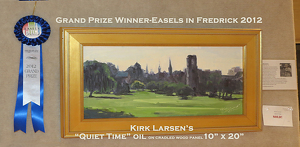 The Grand Prize in the Cranford, NJ "Paint the Town" QUICK-DRAW,
1st Place at the "Local Color Invitational" QUICK-DRAW IN New Hope, PA and have been featured or mentioned in over a dozen news articles on those events. I've had interviews videotaped and posted online by several publications and featured in videos at others. I been juried into some of the top painting events and exhibitions in the country including the 33rd annual International Maritime art show at the Gallery at Mystic seaport (my 3rd consecutive year) and the Oil Painters of America Eastern regional show, in Bennigton VT. I have new editions of artwork about to be printed and clients already demanding first dibs! I've had two pieces selected in the Favorite 15% on BoldBrush competition. (current entry link for painting "Crabbing at the Break of Day" in the is here so please click onto the site and vote)
That's good news for an artist. It is also good for his clients and collectors. The important thing is that while the big article is being written and story developed, the patrons and the public are not always aware of the artist's progress. I was about to head out to paint when a comment from a reader came to my email box, representing accolades over past and current work, condensed into a sentence. It was clear that he had looked over my website and read a few blog posts. He took the time to contact me and I seized the impulse to post Something right now. Not tomorrow, not next week. I have stopped apologizing in my email newsletters for it taking a while to post them. I have been busy, very busy, painting and ordering canvas, paints, frames, meeting with new galleries, composing letters of intent for shows, invitationals, modifying resumes, websites, social media outlets...that's a lot for one person to do. The important things they do long to read about, do not include apologies but content.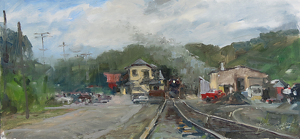 I am not always 100% on top of every update. However, every word that is shared is one more than before. This year my recognition has grown exponentially from where it was a year ago. It is not nearly where it will be in 2 or 3 months or by years end. My obligation is to do something more than yesterday. I'd like to share an example of how this works in life:
I have had a perspective which has helped me and likey hundreds and perhaps thousands of people that relates to physical fitness. More than one person reading this has said to themselves over the course of their life "I need to get in-shape". My response to them is usually "do one sit-up." They say "but I can do more than one sit up". Then I ask "how many sit ups did you do last week? The week Before? This Month? The answer is often"None". By considering what we could do, or wish to do, we sometimes overload ourselves with expectations that stop us from doing anything at all. While writing the last sentence, I stopped, ran into the other room and did one sit up. While I was there, I did nine more, because I could. The truth is that one is still more than I did last week. Now I have done ten. Tomorrow's expectation is only two. The next day is not four but three. keep the obligation low but honor the intent, is the point. What results is often greater than the obligation but only if we remove the pressure to do more.
My blog post today does not represent all that I have to share but is instead unto itself a sharing of some updates, some links to major events and one step (one sit-up) forward in keeping an open dialog with the public at large.
What can you do today that is a tiny step forward? Email one client that purchased a piece and perhaps thank them again or better yet let them know what you have been painting or sketching; Maybe go into the studio and lay out some new paint (even if you do not have a subject selected); Find your sketchbook and a good pencil or pen and set them on the table-OPEN. Open one of those art magazines you've been meaning to read and pick one page of a bigger article to read; assemble one set of the stretcher bars you ordered 3 months ago, even if you do not lay out the canvas; assemble the items needed to mount that linen on those boards and the miracle muck, just gather the items; post one image of art onto your website or webpage and write a an earnest description of the piece; if your images are not ready to post then open photoshop or any image editor program and edit just one, yup one image...
If you are a writer, how about 10 words on the piece or poem you've had rolling around in your head; if you have not picked up the guitar or played the piano in months or more, what about 30 seconds right now! Yes 30 seconds and see what it that does for your soul.
I painted in plein air and at live music events from the beginning of the year in nine plein air events from April to July, barely home for a day or two between most. I painted over 110 pieces at these events often in some extreme heat and with little or no sleep. I painted this year better than I have ever painted before. I have sold more art this year than ever before. however, this past week I have ventured out to paint four times and each day came home with bare canvas.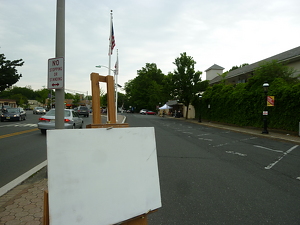 "it rained", "It was sweltering", or "I had to take a career critical phone call" or "the clouds were changing too much", were among my excuses. Today I will pick up the brush and make one mark on the canvas and see what comes from making one mark. I will post that image on Kirk Larsen Art, on Facebook, tonight.
So in closing for this post I implore every artist and everyone else-whatever it is that can move your life forward by even a single step-DO ONE SIT-UP, yes just one or it's equivalent, right now. Lets see what one step can become.