"For me, the best thing about being an artist, is that when I perceive something beautiful not only do I have the joy of painting that serenity or drama but then someone gets to have the joy of that art in their lives; in their home or office to enjoy for generations to come. Being able to enrich and uplift peoples' lives in such an enduring way is truly a blessing".
Passionate about drawing and painting since early childhood, Kirk has never met a medium he didn't like. At last count at least 325 mediums and combinations. His recent work ranges from oil painting "en plein air", studio maritime works fueled by a love for sailing and kayaking, acrylic fusion paintings and all forms of sculpture.
Kirk is continues to gain international recognition as one the country fastest rising artists painting in major Plein air events (Plein Air Easton, Easels in Frederick, Cranford paint the town, Callaway Plein air, Wayne Plein Air, Plein Air Curacao, Sagamore Plein Air) . He really enjoys the camaraderie, competition and creativity they inspire.
He has been named resident Live painter at Islip Art Museum, painting at art museum events capturing the atmosphere and the event as it takes place. As one of the core artists of LIVE ART FUSION, his acrylic fusion works continue to wow audiences and garner great press. These works created under a unique set of circumstances can also be seen in the Music and live event section of the portfolio.
He has been recognized with over 112 awards for paintings, drawings, photography & sculpture including winner of the grand prize for Easels in Frederick as well As the Collector's Choice award at Easels in Frederick, First Place at New Hope's 'local color invitational Quick draw, Grand prize winner at Cranford's Quick draw competition, "Artist of the Year" by Talent in Motion Magazine, the Katlin Family Seascape award from the Salmagundi Club, NYC, First Place for landscape in the Oyster Bay "Bay day Art Festival" and the Isabelle Steinschneider Memorial Award from the Hudson Valley Art Association's 80th annual show. He has had over 44 solo shows and included in a multitude of juried art shows. His artworks (portraits, maritime and Plein Air pieces are in museum and private collections across the country and in England, Ireland, Russia, Germany, Netherlands, Estonia, Curacao and China.
An avid sailor, the past decade has introduced Kirk to classic, modern and one design yacht racing which has fueled a run of fascinating nautical and maritime artworks. His works have been selected for exhibit in the "Mystic Seaport Gallery's 31st, 32nd and 33rd annual International Maritime art shows" respectively and his painting "Skimmer vs. IVRE" is currently on a 22 month, 8 museum, national tour as part of the American Society of Marine Artists "Contemporary American Marine Art" show.
He is working on new wood and stone carvings this spring and a sculpture portfolio is forthcoming.
Kirk has developed a teaching method that accelerates the learning curve in art. Proven to work with college students, elementary & high school level, adults, professional artists and seniors alike; the method works regardless of medium and subject matter. Kirk's perspective is to introduce an approach to artistic-insight and information in its simplest, easiest to understand manner that if a student listens closely and takes notes in the first session, sometimes as short as one hour, that student would potentially have tools to continue teaching themselves for the rest of their lives. Additional sessions work with that foundation to inform, inspire and build a skill set that empowers the artist to grow at an exponential rate. He teaches experienced professionals to absolute beginners and enjoys doing demos and workshops.
Additional creative indulgences include but are not limited to: writing screenplays, essays, short stories, reviews and poetry; set design, film making, musician, gourmet cook, film and TV actor, photographer and motivational speaking.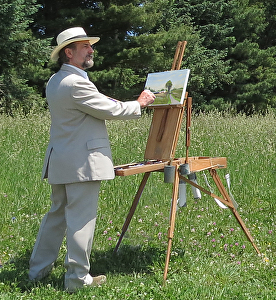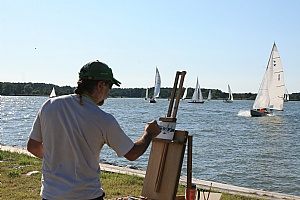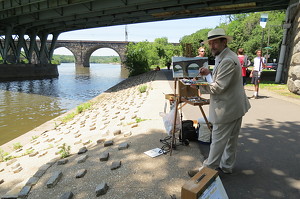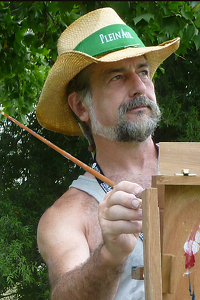 Additional information if you are still reading- (note: some of this information appears elsewhere on this website)
●2012 Juried Plein air competitions: Callaway Plein Air 2012, Easels in Frederick 2012, Cranford "paint the town" 2012, Wayne Plein Air 2012 , Plein Air Easton (2nd yr). Tall ships OpSail 2012 New London
●2012 Invitationals: Curacao Plein air 2012 (2nd yr), Plein Air painters of Mystic Seaport Gallery 2012 (3rd yr), New Hope PA "Local Color" (inaugural yr)
●Artwork in the CONTEMPORARY AMERICAN MARINE ART national exhibit tour. Curated by the
●American Society of Marine Artists (ASMA) a 22 month-8 museum traveling show.
●Selected into the 31st,32nd and 33rd Annual International Marine Art Exhibits at Mystic Seaport.
Recent resume notes:
Oct 2012 Award of Merit "Plein Air 757" Virginia Beach, VA

Sept 2012 Winner first Place Quick-Draw VERMONT Plein Air
Sept 2102 Winner Museum purchase award Mystic Seaport 33rd International Maritime Art show
July 2012 Winner first place QUICK-DRAW- @ New Hope "Local color weekend" (PAE)
July 2012 Plein Air Easton
July 2012 Winner "Old Glory" plein air painting challenge iPaintoutdoors.com
July 2012 Tall-ships OP-Sail 2012-New London juried Plein air competition
June 2012 featured artist spotlight Fios TV Long island –plein air painting
June 2012 Winner GRAND PRIZE-Easels in Frederick 2012
June 2012 Winner Collector's choice-Easels in Frederick 2012
June 2012 Winner Town of Oyster Bay "Excellence in oil painting"
June 2012 Winner Grand prize QUICKDRAW @ "PAINT THE TOWN- Cranford NJ
June 2012 Plein Air Painters of Mystic Seaport
May 2012 selected for one year aerial sculpture installation at The Tilles Center at C.W.Post (2-14-2015)
May 2102 Wayne plein Air
June 2012 Art-Live Music fusion demo Art League of Long island
April 2012 Callaway plein Air
Mar 2012- Winner people in plein air painting challenge iPaintoutdoors.com
Feb 2011 Newsday Long island & LI Explore.com featured artist in articles about
Jan- 2012 "LIVE ART FUSION" #4-28+ (core artist at Live art fusion)